Individual modules NSE3
Clamping Modules
Quick-change pallet system for general milling applications and heavy-duty machining with an even higher rigidity and higher pull-down forces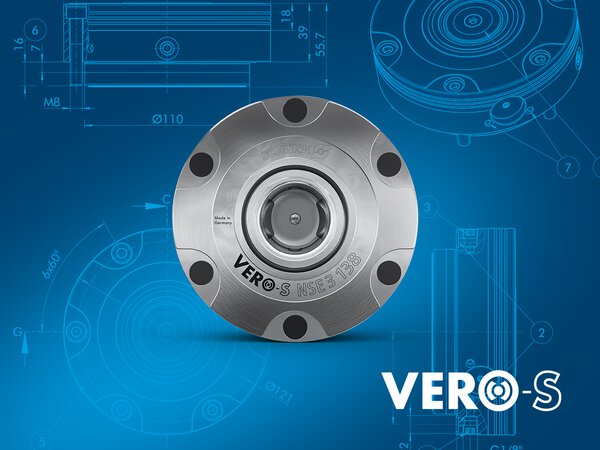 VERO-S NSE3 138
The high-performance pneumatic quick-change pallet system for universal milling machining.
Positioning and clamping in one single operation – VERO-S gets to the heart of rationalization. The set-up time optimizer ensures higher machine running times, and a more rational production from batch size 1. The new premium modules are fully compatible with the previous VERO-S modular system, which now consists of more than 1,000 possible combinations for highly efficient workpiece clamping.
Your advantages – Your benefit
SCHUNK has yet again boosted the performance characteristics of the NSE3 as compared to previous top seller NSE plus. This includes the increase in pull down force as well as the increased dimensional stability of the module body. This means that even higher tilting moments and shear forces can be absorbed by the new modules. This module can be expanded by a unique variety of different equipment. Their most striking feature is an optional, spring-actuated cone seal that automatically locks the module's change interface as soon as the clamping pin is lifted.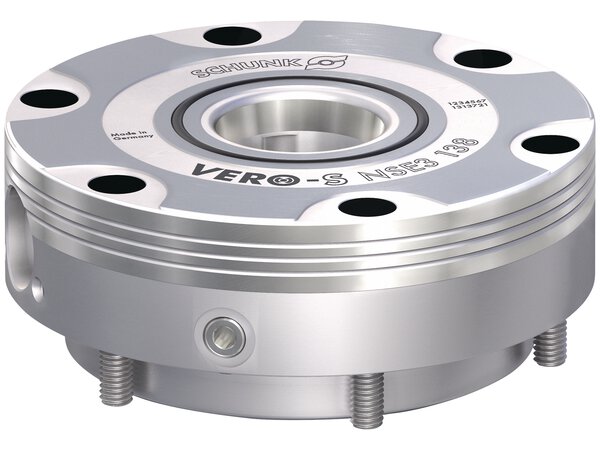 SCHUNK modular system
Innumerable combinations of standard clamping devices suitable for different types of machines
All pneumatic modules can be operated with a system pressure of 6 bar
Additional pressure intensifiers are not required
Positioning via short tapers
Very easy connecting interface with a repeat accuracy of < 0.005 mm
Patented dual stroke system for the highest pull-down forces
Therefore extremely rigid clamping without vibrations
Form-fit, self-retained locking
Full pull down force is maintained even in the event of a pressure drop
The modules are corrosion-free and completely sealed
Long life time and maximum process reliability
Turbo integrated by default
Pull-down force increased up to 250% for optimal utilization of the machine's performance, hence high efficiency.
A consistent clamping pin size for all NSE3 modules and 100% compatible with VERO-S NSE plus modules
No danger of confusion or incorrect operation
Integrated slide monitoring for "open" and "locked" positions
Can be used in automated applications
Optional cone seal
For protecting the change interface from coolant, dust, and chips
Optional sensor variants
For monitoring the slide positions
Sectional diagram
1) Optional cone seal
2) Patented dual stroke system
3) Turbo function for reinforcing the pull down forces
4) Completely sealed system, therefore absolutely maintenance-free
5) Monitoring of the clamping slide positions "open condition" and "locked condition"
6) Sliding bearings in the force flow
7) Lower-lying countersunk screws for easy cleaning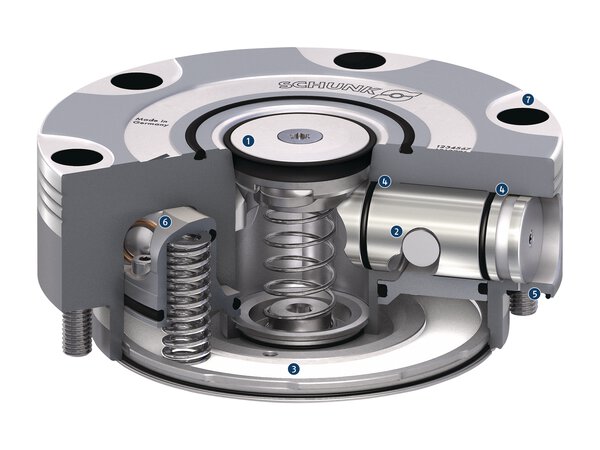 VERO-S NSE3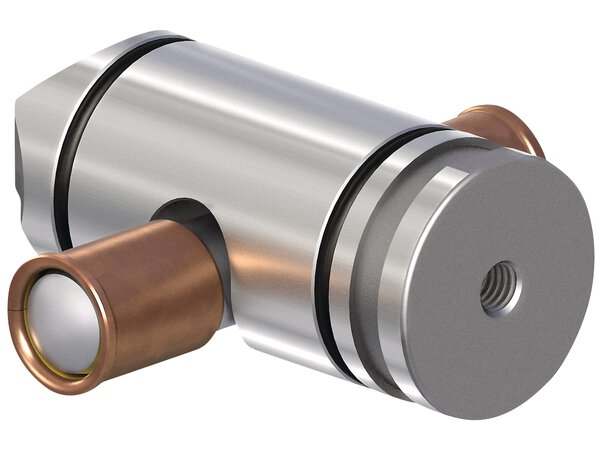 Rolling friction between piston and clamping slide
To further increase the pull down force, sliding bearings are integrated in the piston for the positioning of the cylindrical pin. Therefore, efficiency is increased, and wear is minimized at the same time.
100% compatible with NSE plus 138
The NSE3 138 quick-change pallet module is 100% compatible for installation with the NSE plus 138 modules. This allows modules to be exchanged 1:1.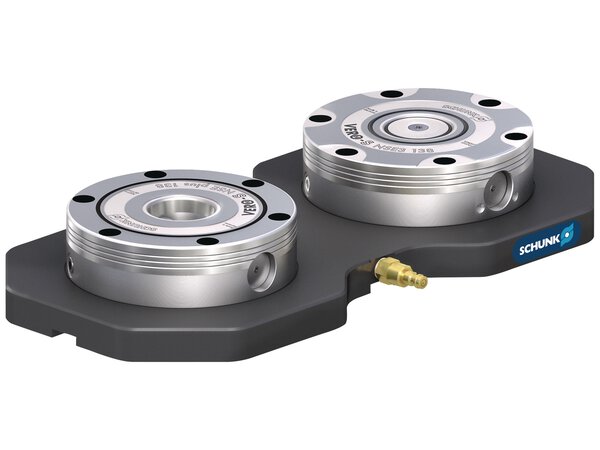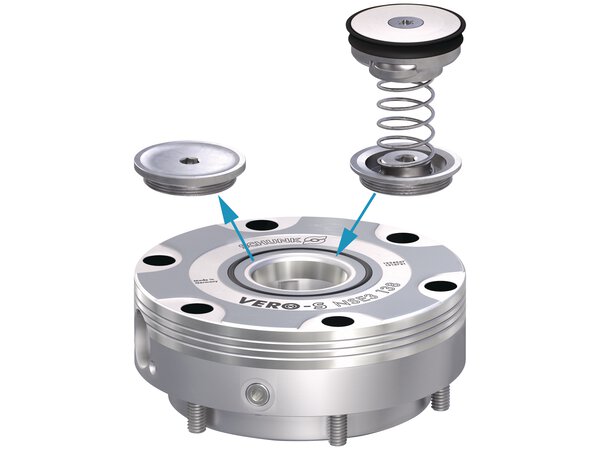 Ability to exchange the plug for a cone seal
All quick-change pallet modules from the NSE3 generation are equipped for integrating a cone seal by default. The standard plug can easily be replaced by a cone seal at a later point.
NSE-T3 138 – the third generation of tombstone module
Also available in the new generation – the tombstone module NSE-T3 138. The extremely rigid module allows even higher cutting parameters to be run. Advantage: Higher pull-down forces, optional cone seal, and longer service life.